Sign Up for our Email Newsletter
THANKS FOR COMING OUT TO SEE the MHCDF FIRST ANNUAL LANTERN PARADE
The Lanterns were terrific! Purrcussion was a fabulous lead-off. The Gaston County art teachers and students did a wonderful job on their lanterns, and the professional artists made some outstanding lantern creations. We appreciate all of their participation. Here are a couple of photos, but keep posted for our drone video coming soon….
GREAT JOB EVERYONE – Here are the winners!
Artists:
1st Place: Phoenix – Teresa Rench
2nd Place: Snake – Nancy Sauser
3rd Place: Flower – Pam Goode
Gaston County Art Teachers and their students:
Ida Rankin Elem – Abby McLaurin
East Gaston High – Justin Allison
Cramerton Middle – Linda Weigert
High Five to the Sponsors:
UPIC Health
Gaston Arts Council
Mount Holly Community Development Foundation
Awaken Gallery
and our in kind sponsors:
City of Mount Holly
Farmers Market
Arts on the Greenway
---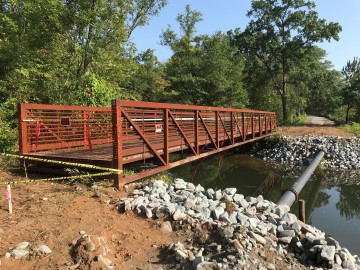 GREENWAY UPDATE – PHASE ONE IS ALMOST COMPLETED
Here are some photos of the recent construction. We will keep you posted on the ribbon cutting for this 1.2 mile paved section of the Mount Holly River Greenway System. Your Foundation has partnered with the City of Mount Holly on this project.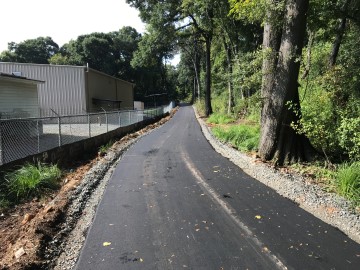 EVENTS AT FARMERS MARKET
THANK YOU for your support of the Farmers Market voting which was successful!
The Healing Garden did win one of the State Farm grants for $25,000.

CITY NEEDS YOUR INPUT
Please Participate! in "Bike Mount Holly"
The City is having public input for "Bike Mount Holly". visit their survey website at www.bikemountholly.com
Mount Holly Historical Society
Museum is open on Saturdays from 10 to 1, and there is a free program on the 4th Tuesdays of the month.
Ribbon Cutting Attended by Large Crowd
About 75 people were present to witness the ribbon cutting and despite the inclimate weather the sun peaked out. Very exciting occasion, and more to come!